Weekly Social Media Bites #19
Welcome back to our Weekly Social Media Bites! It's a brand new week and we have the latest snippets of what's happening in the social media sphere and adland below.
Social
Instagram Will Now Feed All Video Uploads into Reels, Adds New Creative Tools For Reels Content
Today, Meta has announced that virtually all video uploads will now become Reels, whether you want them to or not, while it's also added a range of new creative tools for Reels as it doubles, and triples down on the short video format. The main change is in bringing all video clips into the Reels feed.
---
Meta Launches Updated Facebook Feed Format, Moving It More Into Line With TikTok
It can be seen in a video posted by Meta CEO Mark Zuckerberg that Facebook's main UI will now be split into a 'Home' feed, which will primarily focus on recommended content to keep you entertained, while you'll also have a new 'Feeds' tab, where you'll be able to view the latest posts in different categories, including 'Favorites', 'Friends', 'Groups', etc. The move shifts the Facebook experience more into line with TikTok, which calls itself an 'entertainment app', not a social network.
---
Instagram Adds New 'Boost' Promotion Option For Reels Clips
As it continues to double-, and triple-down on short-form video, Instagram will now enable brands to amplify their Reels clips, via a new 'Boost' promotion option built into the format. There'll now be a new 'Boost' option in the lower function bar on eligible Reels, which will take you through the quick promotion process. It could be a good way to artificially create viral trends (if you're lucky), though there are some provisions that you need to know before putting paid spend behind your Reels clips.
---
Inspiration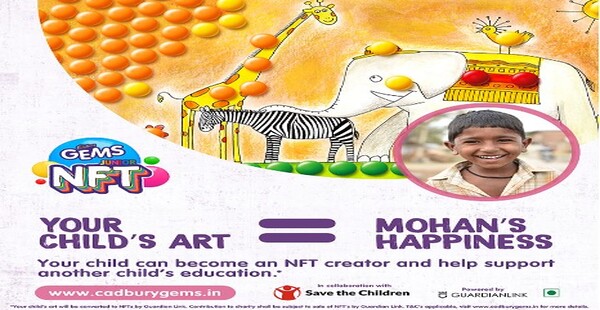 Cadbury Gems Forays Into The World Of NFTs To Generate Funds For The Less Fortunate Kids
From launching the successful online Cadbury Gems birthday party with YouTube sensations Aayu- Pihu, to, introducing the Cadbury PlayPad, an augmented reality gaming experience to make learning fun, the brand continues to leap into the world of today's tech savvy generation and provide innovative engagements for every parent focused on their kid's development. With Junior NFT, the brand has taken its efforts a notch higher by associating with blockchain platform, GuardianLink to convert artwork made by kids around the country into NFTs, celebrating their colourful imagination. Moving the needle from storytelling to story doing, the brand has also partnered with Save The Children to use the proceeds from the NFT sales towards the education of underprivileged children, focusing on getting them back to school, purchasing educational equipment, etc.
---
Nike Challenges Chinese Youth To Innovate In Experiential Campaign
Nike has launched a digital library to encourage youth in China to adopt an innovative mindset. The digital library, called the "Trove" experience and created by BBH, is an archive of Nike's collaborations and showcases from their global catalysts. Each drop will feature a catalyst's design concept and their vire of the world, connecting Chinese youths with positive influences who explore positive themes like sports, sustainability, health, music, etc.
---
Meta Festival Attracts 6,500+ Visitors And 100+ Speakers To The Groundbreaking Virtual World
On 28 June, more than 6,500 attendees gathered in the highly immersive, all-new Metapolis metaverse world for the first-ever 24-hour Meta Festival to hear from hundreds of leading web3 innovators, brand marketers, futurists and technologists. Several hundred others tuned in to live streams on YouTube, LinkedIn, Twitter and Twitch to take a peek into the metaverse in the festival organised and co-founded by global digital agency DEPT and Journee – The Metaverse Company.
---
We hope you enjoy this edition as much as we do!
Copyright © 2022 Wild Advertising & Marketing, All rights reserved. Weekly Social Bites.