WEEKLY SOCIAL MEDIA BITES #2
Welcome back to our Weekly Social Media Bites! It's a brand new week and we have the latest snippets of what's happening in the social media sphere and adland below.
Social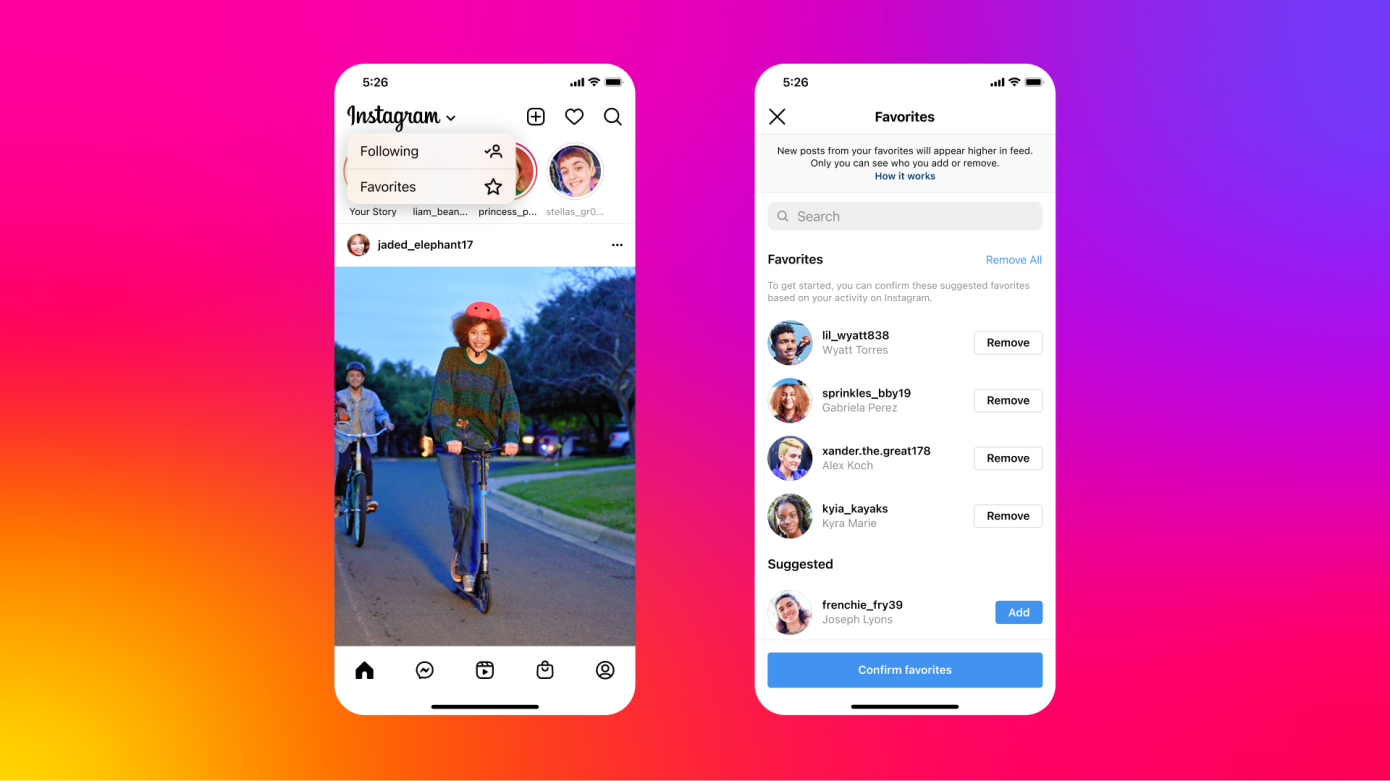 Instagram Launches Chronological And 'favourites' Feeds For All Users, But They Can't Be The Default
Instagram today is making a chronological feed available to all users, as earlier promised, alongside another new feed-filtering option that will allow you to scroll through posts from your favourite accounts. The features had been launched into limited testing starting in January but has now reached Instagram's global user base by the end of the day on Wednesday, March 23 — a faster rollout than usual.
---
Meta inks partnership for 3D ads in step toward the metaverse
Meta Platforms Inc. will make it easier for brands to run three-dimensional ads on its Facebook and Instagram social media platforms through a new partnership with an e-commerce technology firm. The integration with VNTANA will allow brands to upload the 3D models of their products to Facebook and Instagram and easily convert them into ads, VNTANA said on Thursday in a press release. The move is a stepping stone into advertising in the metaverse, said VNTANA Chief Executive Ashley Crowder, referring to the futuristic idea of a collection of virtual worlds that can be accessed through devices such as headsets.
---
Encanto hit shows how TikTok is changing the music scene
We need to talk about Bruno. The theme song from Disney's hit movie Encanto (We don't talk about Bruno) has become the first song from an animated movie to top the United States (US) charts for multiple weeks. How did this come about? The answer is, once again, TikTok. The short-video platform is again behind the creation of a hit song. TikTok is changing the music industry, how hits are made, and how the platform opens a new way to discover new artists and new music. At the heart of the phenomenon are viral challenges or trends, in which creators use short clips from a song that are re-used by thousands or millions of other users in their videos.
---
Inspiration
Uber Eats Japan Creates Scannable Pyjama "QR PJs" To Promote Late Night Delivery
Uber Eats offer the widest late-night delivery coverage in Japan. To drive awareness of this unique service and boost the brand's popularity, it has partnered with Special Australia to create "QR PJs". These QR PJs turn classic nightwear into the easiest way to order food late at night, making the process so simple, consumers can do it in their sleep. The scannable pyjama print offers QR codes that link straight to all of Japan's favourite cuisines on the Uber Eats app.
---
Unilever Oral Care Brands Launches New Campaign To Help Asians Fight Tooth Loss
Tooth loss has serious consequences – people who have lost teeth have a higher risk of developing cardiovascular disease and are at risk of malnutrition, can experience sleep deficiency, be discriminated against, or suffer a loss of self-confidence and anxiety. Unilever created a brand film to help drive awareness of tooth issues in the region. The content will demonstrate the importance of acting early to avoid preventable tooth loss will launch on World Oral Health Day. The film tells the story of a boy's journey – from childhood, when losing teeth was exciting, to adulthood when it isn't anymore. It will be shared across local Unilever Oral Care brands' social channels, including YouTube and Facebook, for a month in Indonesia, Vietnam, Bangladesh, and Ghana.
---
Not Sure What Your Foreign Language Tattoo Says? Duolingo Is Offering To Fix It
The language-tutoring website and app has launched a new campaign called "The Tatoo Duo Over" in commemoration of World Tattoo Day on March 21, which will offer foreign-language tattoo owners a translation of what their tattoo says. Duolingo launched a video for the campaign showing a tattoo artist mistranslating the phrases that the clients had asked for. Created by the agency BETC Paris and directed by Pierre Edouard Joubert, the fun campaign might give some of you reason for pause. Such as the tattoo artist in the film mistranslating 'live, laugh, love' into 'sad, soft, tuna', or a request for 'courage' into 'toilet demon'. Ouch. Starting March 21, Duolingo is taking submissions from the wrongly inked in the U.K. and France. The brand will then pick the worst tattoos and bring them to Paris for a "DuoOver."
---
We hope you enjoy this edition as much as we do!
Copyright © 2022 Wild Advertising & Marketing, All rights reserved. Weekly Social Bites.