Weekly Social Media Bites #24
Welcome back to our Weekly Social Media Bites! It's a brand new week and we have the latest snippets of what's happening in the social media sphere and adland below.
Social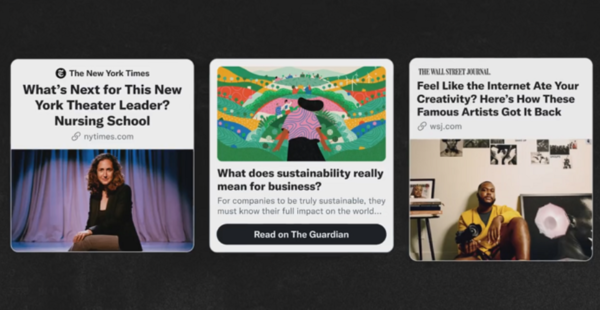 Twitter Tests New Format For Tweeted Links
Twitter's testing a new format for publisher links, with what it's calling its 'Tweet Tiles' display. As explained by Twitter:"Right now, people on iOS and web may see and interact with Tweet Tiles that include text, images, videos, or other elements like a button from people in the initial test group. These formats are designed to easily engage with content and make your timeline more dynamic and visual."The option could provide new ways to stand out in the fast-moving tweet feed, helping to drive better performance based on these updated link-preview displays.
---
Youtube Expands Access To Audience Behavior Insights, Adds New Creative Tools For Community Posts
Good news for YouTube creators, with the platform throwing smaller channels a bone, by expanding access to its 'Other Videos Your Audience Watched' data. As it sounds, 'Other Videos Your Audience Watched', which YouTube first launched in 2020, provides insight into the viewing habits of your audience, by showing you a listing of the videos that they watched in addition to your content over the previous seven-day period. That could help to identify key trends, and hone your strategy around rising interests.
---
Tiktok Tests A New 'Nearby' Content Feed, Which Could Become A Major Consideration For Brands
After it was spotted in testing by several users, TikTok has confirmed that it's currently experimenting with a new 'Nearby' content feed, in addition to the current 'For You' and 'Following' tabs. Which could, of course, be a big consideration for brands. TikTok is the app of the moment, with projections that it'll reach 1.5 billion users before the year is out, putting it only behind Facebook and YouTube in total audience.
A dedicated local feed could give you access to a huge, engaged nearby user group - and when you also consider that, according to Google, almost 40% of young people now refer to TikTok or Instagram instead of Google Search when they're looking for a place to eat, that could indeed present a huge promotional opportunity.
---
Inspiration
Samsung Social Opens Up Shoppable Worlds On Instagram
The first iteration of this format, which the agency coins 'shoppable worlds', features Samsung home appliances including the design-led Bespoke line and lifestyle TVs. It has been developed to recognise that social commerce does not have to be led by a push-to-buy approach. Instead, the audience can enjoy the journey from the first time it sees a product to the moment of purchase.The format will see Samsung pioneer a new approach in which it creates immersive worlds that draw the audience, followed by an experience which replicates a successful 'department store' approach.
---
Cathay Pacific Launches Carbon-Offset Programme To Promote Sustainability
Cathay Pacific has introduced Fly Greener, a carbon-offset programme for air freight, with the anticipation of extending the aviation's sustainability efforts in Asia. The programme is powered by an integrated carbon emissions calculator, as part of the airline's commitment to tackling climate change by achieving net-zero carbon emissions by 2050. The new carbon emissions calculator works out the carbon emissions of shipments and the cost to offset them in just a couple of simple steps. Customers can then make a contribution to purchase carbon offsets that come from carefully selected carbon-offset projects. All selected projects are certified under the Gold Standard to ensure their carbon reductions are verified, and come with societal and developmental benefits.
---
Feeling Drowsy During Midday? Kopiko Got Your Back In Latest Ad
Singapore – Kopiko, the popular coffee brand under Indonesian food and beverage company Mayora, has launched a new ad campaign that focuses on keeping coffee drinkers awake amidst their midday drowsiness.Furthermore, the ad–shot in Bangkok by Spunk Picture–is set against a high-spirited, well-known jingle in Asia, remixed in Spanish, the film shows how Kopiko wakes you up in everyday relatable scenarios, from battling the "Zzzs" on a drowsy work day to staying alert in the middle of a slow traffic jam.Using a mix of humour and heart-warming sequences, the film delivers a story with universal appeal, catering to the expansive communities from the US and Hispanic markets – and perhaps, even beyond.
---
We hope you enjoy this edition as much as we do!
Copyright © 2022 Wild Advertising & Marketing, All rights reserved. Weekly Social Bites.