Welcome back to our Weekly Social Media Bites! It's a brand new week and we have the latest snippets of what's happening in the social media sphere and adland below.
Social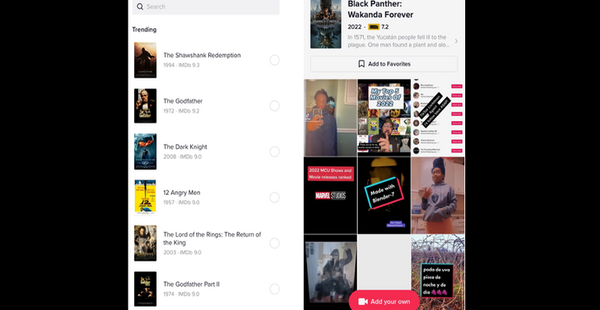 TikTok Adds New TV Show And Movie Tags, Powered By IMDb
TikTok's adding a new option that will enable users to tag TV shows and movies in their uploads, with linkage through to IMDb for more info on that content. As you can see in this example, soon, you'll be able to select a movie or TV show to link to in your TikTok clips. That tag will then be displayed above the video caption, and will direct users to a dedicated page in the app which will display basic info about that content, sourced from IMDb, including release date, cast notes, etc.
---
YouTube Experiments With Suggested Hashtags For Shorts Clips
YouTube's looking to help Shorts creators gain more traction for their clips, by suggesting relevant hashtags to add to their Shorts within the upload process. As explained by YouTube: "To make it easier for Shorts creators to add relevant hashtags to video titles, we're running an experiment that suggests new hashtags to include when publishing Shorts. If you're a creator in the experiment, you'll see suggested hashtags appear in the upload flow on mobile. The suggestions will be custom to your channel as they're based on content you've previously uploaded."
---
TikTok Adds 5 New Ways To Enforce Safety For Teen Users
TikTok has announced five new ways to help keep teens safe on the platform. The new enforcement policies will also make borderline or "suggestive" content ineligible for recommendation into TikTok For You feeds. What's new. TikTok is increasing their enforcement of nudity, sexual activity, and sexually explicit content, including content that directs to adult websites or apps for teen users (age 13-17).
---
Inspiration
Cadbury Dairy Milk's Algorithm Highlights Happy Videos With Low Views And Like Counts
According to a new campaign from Cadbury Dairy Milk, social media algorithms are designed to favor only popular pages, meaning a lot of other relatable happy and good moments go unnoticed. In response, the brand unveiled it's an algorithm that mines videos with happy hashtags to filter and create a bank of the ones with low views and like counts automatically as a part of its #HeartTheHappiness campaign. Through this effort, the brand has leveraged its Instagram guide section, allowing consumers to acknowledge the happiest moments of 2022 and end the year on a meetha note.
---
H&M Taps Into Metaverse With Immersive Roblox Experience
H&M has launched an immersive 3D gaming experience "H&M Loooptopia" on Roblox to allow players to experiment with materials and patterns in a playful way, creating the next virtual garment and wardrobe for their avatar. Partnering with metaverse studio Dubit, H&M's new interactive online experience also puts circular actions at the heart of the fun, with social interaction, engaging environments, mini-games, styling sessions, alternate worlds, events and more.
---
Take Your Holidays Seriously And Stay Much Less Dead For Much, Much Longer
British Airways Holidays is urging you take your holidays seriously. According to survey results released by the brand, you might want to take their advice. If for nothing else than "to stay much less dead for much, much longer." The survey, commissioned by British Airways Holidays with YouGov Plc., found that more than a third of working Brits (36%) who did not take their full annual leave said it was because they 'just didn't get around to it'. Couple that with 42% saying that they have felt stressed about work while on holiday, and 46% responding that they have had to work on their leave, are you really taking your holiday seriously? Or, are you among the 48% who have checked work emails while away and more than a third (39%) who have gone one step further and responded?
---
We hope you enjoy this edition as much as we do!
Copyright © 2022 Wild Advertising & Marketing, All rights reserved. Weekly Social Bites.